Pure Resourcing – a partnership of innovation
It started with projects,
Mobile website
We got to know Pure Resourcing Solutions (PRS) by building their mobile site back in 2012. While doing some marketing homework, they discovered that having a site that worked well on smartphones would put them in a minority among recruitment professionals. Their existing web provider did not make mobile sites, so they asked us to build one for them.
The PRS mobile site we built provides the core services of search, apply and check applications for job seekers. It had to match the main website in design and identity, adapted for the smaller screen.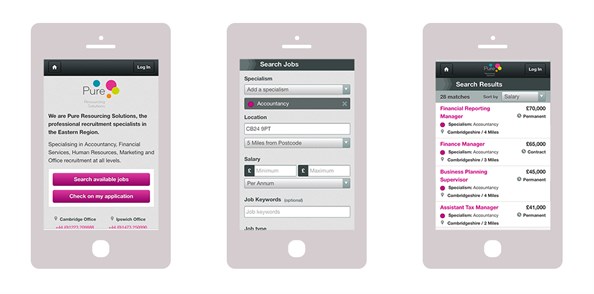 CMSification
A few months later, we completely rebuilt their main website (prs.uk.com) from the ground up without changing the design at all.
Yep, you read that right.
Sorry to interrupt…
If you like what you've read so far, join us on LinkedIn to talk all things digital product development with our team of experts.
Let's talk Fluent
You see, PRS were comfortable with their existing design, but updating their content through their existing website provider was literally costing them. Whenever they wanted to make a copy change, they had to pay for an update to their website. When they wanted to update the homepage, they had to pay. If they wanted to post to the blog…
It got to the point where Pure started to feel like they were losing their competitive edge online because they grew wary of paying for any changes.
So, we used a handy CMS (content management system) called Umbraco to replicate their website with a single, vital twist. PRS' staff could now – well: handily manage their content themselves.
and developed into a partnership.
PRS punch above their weight in their local market. They're not large enough to need a big IT or web team in-house, but they do need a kick-ass website that integrates with their business. To improve their online presence, they enlist specialists.
As we began to implement new changes to their websites, we were able to spot potential improvements. We suggested solutions to upcoming problems beyond the simple scope of a current project. And, we started to knit their systems together with the various applications they use to help job-seekers find jobs, and businesses hire the right candidates.
We created a front-page advert for a new recruitment sector – integrated with a job-feed.
We built Pure an API to expose the job data in their database, and integrated their data with several third-party apps.
We automated several processes within the recruitment workflow.
We've created automatic reports for their staff
What started as a simple builder/client relationship developed into a technological partnership.
Now, we continuously enhance PRS' online tools. Notice that we didn't use the word maintain – though we certainly apply needed updates, and monitor their server. We actively improve it by addressing new and evolving business needs with clever software, content support, and systems integration.
The close working relationship between Pure and Fluent has enabled them to deliver time and again because they really understand our business and they give unbiased straightforward advice, I cannot recommend them highly enough. - Ian Walters, MD at PRS
Ready to solve your problems?
We'll help meet the challenges facing your growing business. Get in touch and tell us what you need, the team can't wait to hear from you.
Contact us