We're hiring! Web developer, Cambridge, UK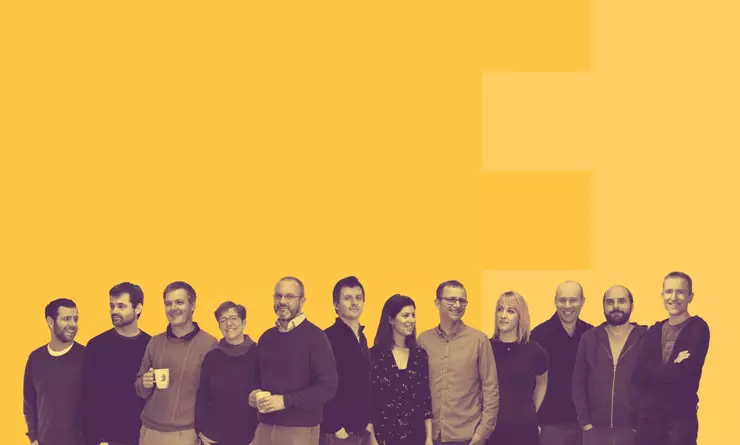 We're looking for a creative and self motivated web developer who can do more than just colour in between the lines.
About us
Fluent is a digital product development agency. We partner with ambitious businesses to accelerate the growth of their digital products and services.
Most of our time is spent building and connecting together applications, websites, systems and user experiences for mobile and the web. We love solving complex problems with ambitious clients who are delivering transformational digital products and services.
We want the people who work here to thrive too. We don't have a formal management structure - or office politics - we work together in various combinations depending on the demands of the project.
Fluenteers enjoy a high-level of autonomy and the pay and benefits we offer reflect the high calibre of people we hire.
About you
You need to be detail orientated. We're looking for a craftsperson who cares about code quality, performance and all the tiny touches that combine into the alchemy of a great end result. Our ideal candidate has a UX mindset that doesn't just "colour things in" but can imagine how things will behave, adapt and respond in the real-world with real users.
You have enough mechanical know-how to turn your visions into reality. We're not a pure creative design agency so you'll need plenty of back-end sensibility to ensure we can deliver our solutions - and that we are solving the right problem. And if you can teach our back-end developers a thing or two, then, so much the better.
You should have project and people skills. We're a small team which means that everyone does a little bit of everything. We like it that way - and hope you will too. That means you'll need to be a collaborator - ready to communicate with colleagues and clients.
A useful list of bullet points
You should definitely:
Have an extensive knowledge of writing maintainable, semantic HTML5, CSS3 and scripting languages (Typescript, client-side code)

Be familiar with a modern front-end development stack (SASS, node, gulp etc.)

Be quick to learn new languages and modern Front End MV* applications such as React and Angular and keen to apply your skills to new environments (serverless apps or native mobile anyone?)

Be used to managing code in Git, tickets in Jira, and your work in Agile sprints

Be undaunted by the server-related stuff, but don't worry, we have good people who can help with that

Be able to communicate and validate ideas in a variety of formats depending on the project - sketches, wireframes and prototypes
Tons of bonus points for knowledge of:
CMS applications - in particular Umbraco 8

Thoughtbot's Bourbon and Neat libraries

Bootstrap / Foundation (and when they're appropriate for a project)

Prototyping and design tools such as Sketch, Invision, Framer.js and the Adobe Creative Suite
In addition to the above you'll need to be:
Legal to work in the UK

Able to work at our office in Histon, Cambridge, and willing to travel occasionally
If this sounds like you, we'd love to speak to you.
If this isn't you
Then we're still happy to talk. We're always interested in meeting smart motivated people who want to make great stuff (unless they only speak in python!). If you're outside our box then we're willing to think in a different way. Please drop us a line and tell us why you could be Fluent.
In return
In return we can offer:
A super friendly team of experienced peers to work with

A good work-life balance - regular hours and a flexible schedule

A competitive salary commensurate with experience

Pension and wellbeing contributions

22 days' holiday a year - plus a flexible bank holiday entitlement
To apply
Send us the following to mynextjob@isfluent.com:
Your CV

A

Codepen

of something you're proud of, a portfolio site, or a site you've been working on

No agencies please