My Construction Hub, a new online meeting place for the construction industry
Hiring a new building contractor for a big construction project can be a time-consuming affair. That's why clients with large budgets and complex requirements employ specialist consultancy firms to help them find the most suitable contractors to tender.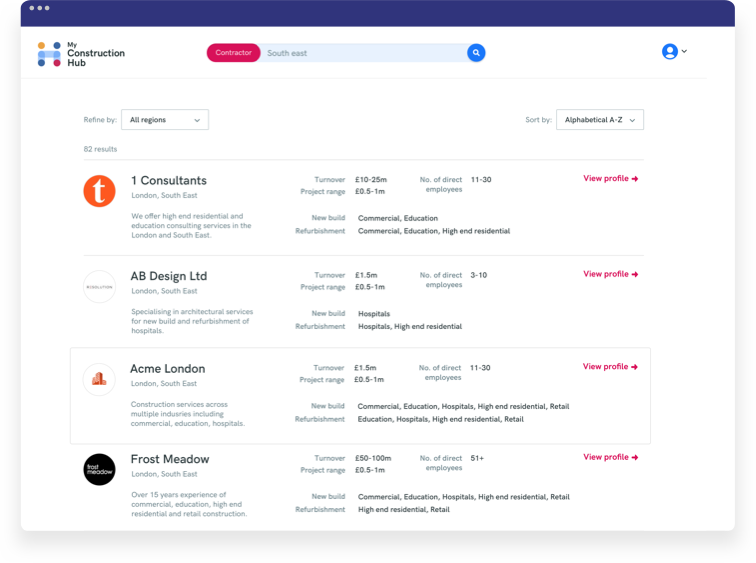 During a tender up to 10 shortlisted building contractors may be invited to submit a lengthy Pre-Qualification Questionnaire (PQQ). It's a manual process that usually results in the same information being gathered each time there's a new project on the horizon.
Unsurprisingly, the whole hoop-jumping exercise often results in the same consultants working with the same pool of contractors, time and again. From a client's perspective - particularly one about to spend millions on a new office -  these mini monopolies aren't great for business: they don't always guarantee the best people at the right price.
So what do you do if you are a consultancy that wants to spread the net wider? How do you find and connect with other consultants and contractors for tendering purposes?
That was the problem that new startup venture, My Construction Hub (MCH) wanted to solve with the help of Fluent's directory-building and design expertise.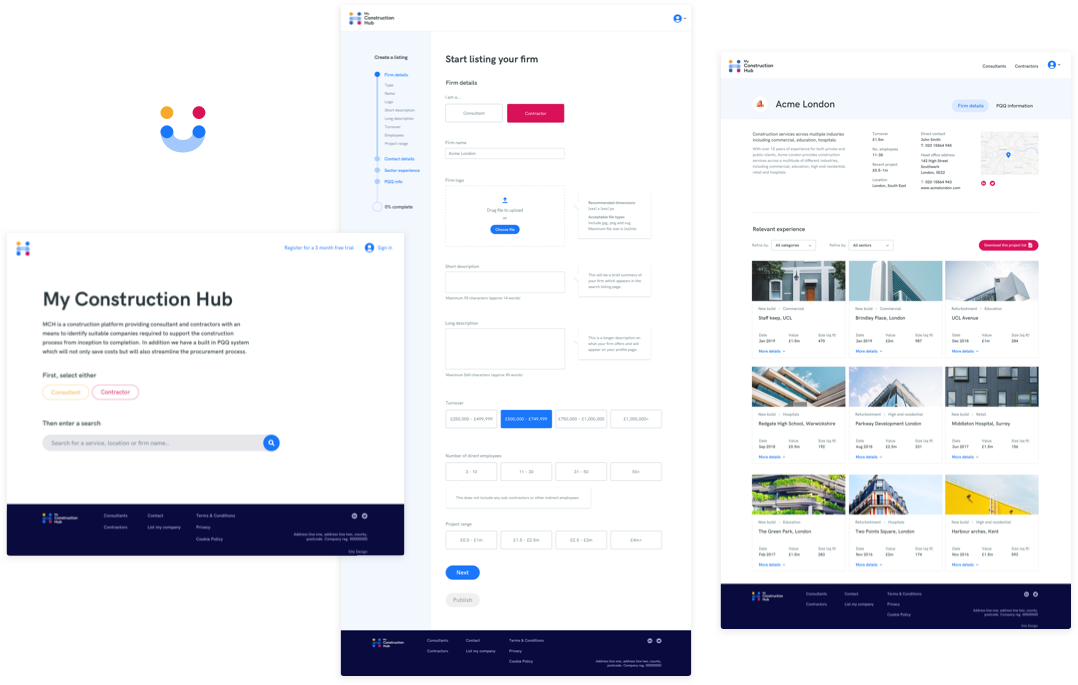 Underpinned by cutting edge technology
Our understanding of how consultants and contractors work informed the criteria for the site's browse features. We noted that while consultants are best distinguished by discipline (e.g Architect, Surveyor, Engineer) contractors are best categorised by the sectors they specialise in (e.g hotel, hospital, residential). Of course, it's possible for consultants to identify (and be surfaced) in more than one discipline, just as contractors can work across more than one sector.
Search results are listed in order of nearest location first with further options to filter by turnover, previous project values, number of employees and accreditations. Companies can also can be looked up directly by name.
Consultants and contractors can register and pay for membership using Stripe through the site and, once signed in, can access advanced profile listing and PQQ information.  Because the PQQ section requires a lot of detailed information, contractors can return to their page to complete it over time - aided by a progress bar.
On the surface, My Construction Hub might appear a relatively simple directory site but it's underpinned by some cutting edge technology.  For the backend, we chose Umbraco CMS for its ability to allow members to publish updates straight to their page, cutting down on MCH admin support time. For the front-end, React, Typescript and Graph QL magic allowed us to search large data sets quickly and return the results seamlessly.
The result is a slick system solving a simple problem for a big industry.
Let's work together
We'd love to hear from you. Make our day.
All ideas welcome. We'll soon let you know if we're able to help.
Contact us