Sorry to interrupt…
If you like what you've read so far, join us on LinkedIn to talk all things digital product development with our team of experts.
Let's talk Fluent
Here's what happened. Carol Ann Duffy is a talented British poet. She wrote a topical and smart little verse about David Beckham being ruled out of the World Cup because of an Achilles' injury. The Mirror, one of the UK's tabloid newspapers, published it exclusively on its website last week.
And that's where it went Goldenballs up:
>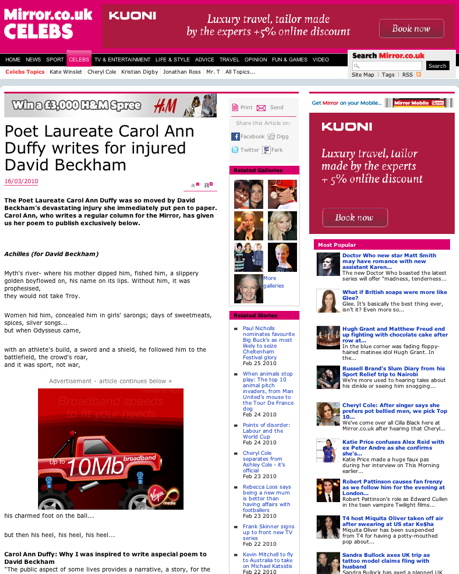 Can you even see where it begins and ends at first glance? The problems with this layout are:
The title is not distinct enough. It is the same font size as the rest of the copy, and the italics make it look less, rather than more important than other elements.
The body font for the poem is not distinctive either.
The layout does not frame the verse in any way, with white space or indentation for example.
There's a BLOODY GREAT BIG ANIMATED ADVERT right in the middle of it, breaking up a line.
There is a typo in the line afterward, 'aspecial', as well as a missing line break, still uncorrected 6 days after publication.
If you want people to value your content, present it in a fitting way
With poetry, these transgressions are magnified, because poetry is language arranged in such a way that it invites you to take a closer look: to enjoy, to be moved, to think. The frame is vital – from the title, the line and verse breaks through to the layout and choice of fonts and paper if the poem is published in print.
Shouldn't as much care be taken online?
I'm not talking about fancy ornamentation. Just enough care to honour the material, draw attention to it and even enhance its meaning, because most poetry is written for the eye as well as the ear.
Would you be happy with a professional painting stuck on the gallery wall with no mount or frame? Or a meal at a decent restaurant slapped in a sloppy pile on paper plates?
Bad presentation says that you don't value your content. And if you don't value it then your customers certainly won't.
Poetry suffers on the web
Although no other poetry site is as brazen as the stanza-splitting advert-loving Mirror, I am yet to find one that does poetry justice. Many of them put small font sizes in dense array for an overall dull effect. The Poetry Society is one example, who also use a low contrast font (being a lighter grey) that reminds me of financial small print.
Perhaps the Mirror needs a poetry style guide (because that's going to happen). Perhaps it's okay if they present their own copy as worthless, but for goodness' sake when they've got the poet laureate submitting an exclusive verse they could display it in such a way to make readers take it seriously – or even read it in the first place.
The best example I've seen for laying out poetry online is Verbatim Poetry. I would say that, because I did it. It's not perfect, but even as a fun little hobby on the side it puts whoever was paid to publish the David Beckham poem in The Mirror to shame.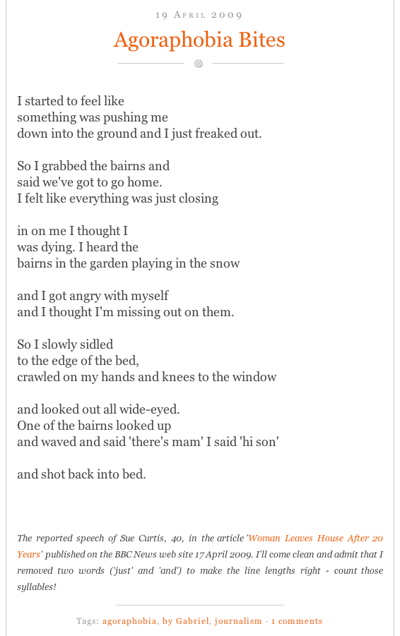 Originally published on SmyWord.com
Want more tips on digital product development from people at the cutting edge? Follow Fluent on LinkedIn and keep learning
Ready to solve your problems?
We'll help meet the challenges facing your growing business. Get in touch and tell us what you need, the team can't wait to hear from you.
Contact us