Students need housing in a hurry; there's only a short season when they're looking for a house - and it'll usually be one they share with a few friends. They don't want to fall out over paying bills and they want something close to college so they can fall out of bed and walk straight into a lecture.
In residential lettings the story is different - they're renting on their own, they want a place which is home, a landlord who listens and a simple application process.
Both site designs needed to focus on:
Simple browsing of properties - although they're a big landlord the number of properties available can be quite small (and that's a good thing!).
The core strengths of dealing with the Whitfield Group - no agency fees, simple application process, dealing direct with the landlord.
Rich property information - unlike an agency the Whitfield Group look after the same properties for decades. As a result they can afford to invest in good photography and more detailed property descriptions.
The Whitfield Group already had a logo - so we created two designs themed around the coloured circles found in that logo. One for Whitfield Student properties: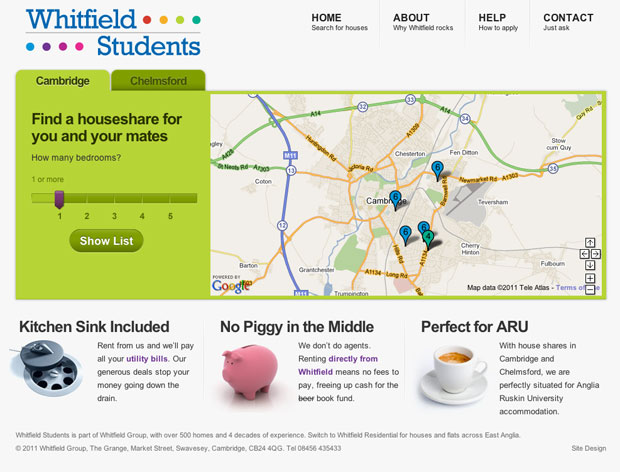 And one for Whitfield Residential: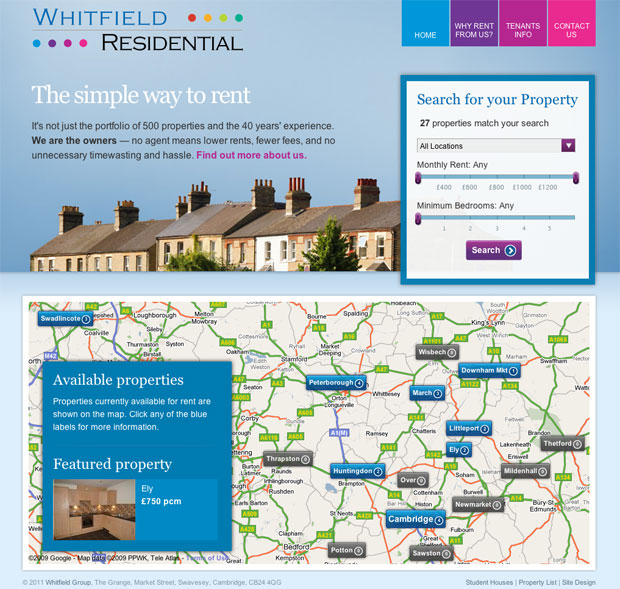 Hat tip to our content strategist Gabriel who took the photo of the Cambridge rooflines - they were so pleased with the photo that it now features on all of their print material and vehicles!
Ready to solve your problems?
We'll help meet the challenges facing your growing business. Get in touch and tell us what you need, the team can't wait to hear from you.
Contact us