Keeping TuckerGardner Ahead of the Game
"Even our geeks are second to none". TuckerGardner often bases its marketing around the innovative website features that Fluent create.
As a finalist in more than one estate agency website award, TuckerGardner is proud of its use of technology. Through its website, TuckerGardner reaches more property buyers and keeps them up to date, serves clients better, and runs operations efficiently behind the scenes.
In fact it is so proud of its technology that TuckerGardner often leads its marketing campaigns with its website features.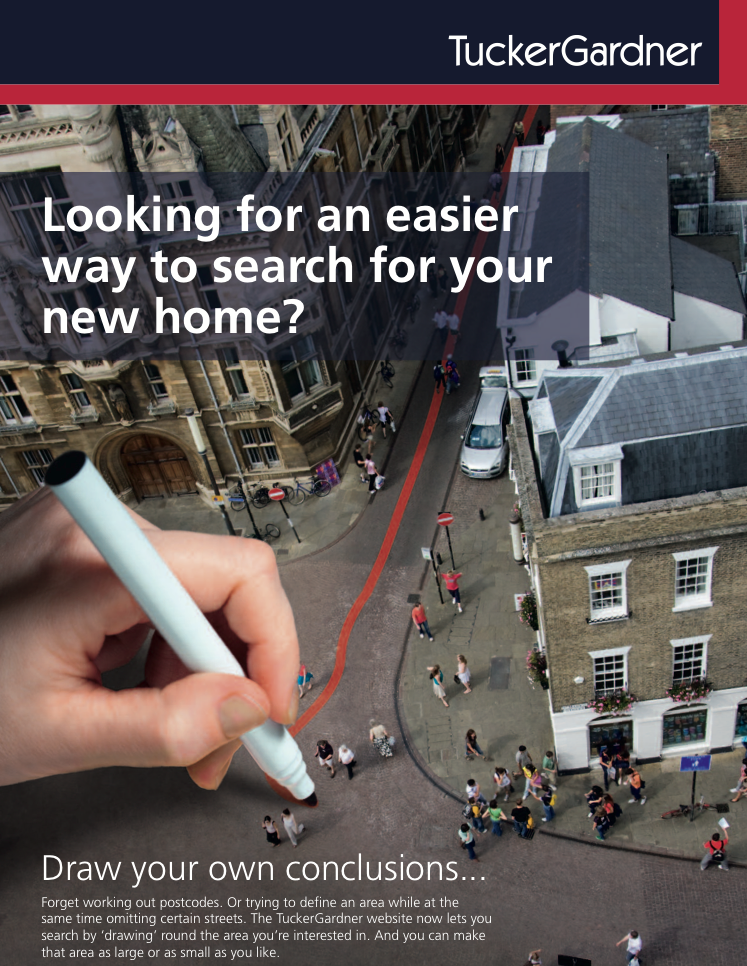 Now it's time for draw search.
TuckerGardner's recent print advertising shows a giant hand drawing lines down the streets of Cambridgeshire – showing that on their site you can now trace the area in which you want to find properties.
Sorry to interrupt…
If you like what you've read so far, join us on LinkedIn to talk all things digital product development with our team of experts.
Let's talk Fluent
We built draw search to retain the ability that pins had of saving multiple different search areas, so that the property seeker can be updated from several different locations at once. With the new search, however, the area can be even more exact – containing only the streets (or half streets) that they really want.
For Fluent, the latest TuckerGardner website was in part about solving the tricky technical problems to make the search work and creating a user experience that would make its usage obvious. We helped users in three ways: making the controls and interactions simple and clear, adding prompts to the map the first time they use it, and making a video guide for those who prefer instructions.
The other part of the project was to give the website a fresh look, whilst improving usability even more. We turned the giant image from the previous design into a background rather than a hero image on the front page. This keeps the magazine feel but allows the core page content to move front and centre – including new search controls. Image galleries are now swipeable on touch devices and there is more support for retina devices. We rewrote some of the sales messages to work with new videos and imagery.
The new site keeps TuckerGardner at the top of its game as the leading estate agent in Cambridge. And it's not bad for Fluent's game either. More Fluent clients
Ready to solve your problems?
We'll help meet the challenges facing your growing business. Get in touch and tell us what you need, the team can't wait to hear from you.
Contact us