Property Search with School Catchment Areas
At Fluent we are blessed with so many children that our summer barbecue is like Lord of the Flies.
One thing the parents among us know is that when you're looking for a new house, schools are up there as one of the most important considerations.
So why don't estate agents make it easy to search catchment areas?
Sorry to interrupt…
If you like what you've read so far, join us on LinkedIn to talk all things digital product development with our team of experts.
Let's talk Fluent
Some property sites map schools. Rightmove, for example, shows you the nearest schools to an individual property. But that's not answering the right question. The question is: what houses have you got that will put little Jennifer into a specific school?
That question is now answered on the TuckerGardner website. From Cambridgeshire County Council's geographic open data, we took the primary and secondary school catchment area information in KML format. By integrating the data with our property mapping on the TuckerGardner website, we were able to create a catchment area feature.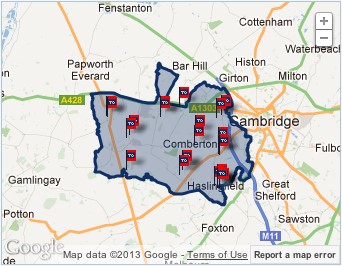 Comberton has a frightfully good village college don't you know
Now you can search by school on TuckerGardner and it will display a list of properties for sale or rent within the catchment. The visualisation of catchments alone is a breakthrough – connecting it to properties is the icing on the cake.
You can also search for TG properties by town, road, stations and workplaces, in addition to the main draw search. These functions are all convenient for property seekers, gold dust for SEO, and another feature to keep TuckerGardner ahead of the competition.
Ready to solve your problems?
We'll help meet the challenges facing your growing business. Get in touch and tell us what you need, the team can't wait to hear from you.
Contact us