Checkatrade Application Application
Replacing Checkatrade's paper-based system with a custom web app

Checkatrade is the UK's most trusted brand for finding quality tradespeople. It stands apart from simple trade directories because it's not a buy-an-advert classified service, nor is it a lead-generation website. Checkatrade only lists trusted tradespeople as members - it vets applicants rigorously and continually monitors them to maintain standards.
Checkatrade members are interviewed and background-checked. They agree to have their customers' feedback regularly published. And Checkatrade does indeed cancel memberships when workmanship is routinely shoddy.
For the public, it's free to use. For members, it's a mark of quality. And Checkatrade is on to something, because their paid membership is growing. Fast.
Sorry to interrupt…
If you like what you've read so far, join us on LinkedIn to talk all things digital product development with our team of experts.
Let's talk Fluent
The legacy of paper
Each membership application takes extensive fact-finding. A Checkatrade consultant travels out and interviews the applicant. Together, they fill in a hefty form to record detailed information about the tradesperson's business. The consultant also takes copies of important documents to prove their identity, insurance cover, and any relevant certifications. This lot is then posted on to head office for processing into their systems.
But with hundreds applying to join each month, this needed to change.
This poses a problem: to grow, Checkatrade can either reduce the rigour of the background checking (and lower the standards of membership), employ more people to shuffle the paper, or speed up the processing of each application.
They chose the latter.
The application application
We built Checkatrade a HTML5 web application optimised for tablets, which replaces their paper-based application process.
The web app runs on Checkatrade's fleet of iPad and Android tablets, which their consultants now carry to interviews. All the same background information is required, but is now captured electroincally through the web app. It uses the tablet's built-in camera to capture an image of any documents, IDs and certificates. All the information is written directly to the head office database – no more repeated data-entry!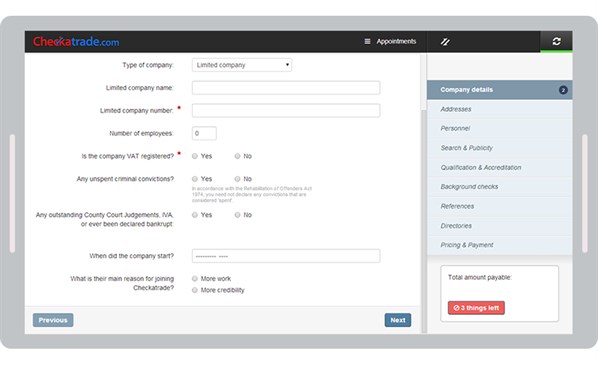 It was designed to keep the consultants mobile, and to cope with dodgy mobile data coverage. The application uses the tablet's local storage to keep a copy, and automatically syncs when it's back online. So consultants can take the tablet anywhere from Caithness to Cornwall.
The electronic application form has more smarts than the paper form. For example, if a plumber is applying, it prompts for the relevant Gas Safety qualifications. If the trade wants to advertise in a printed guide - the form can show upcoming editions and where there are spaces available. Automated rules for address validation, pricing options, collecting references all help to improve the quality of the data, saving time and effort later down the line.
From data entry to back-office workflow
Capturing information at the appointment is the visible part of the web app. We also had to consider the entire workflow, which starts with getting the Checkatrade consultant to the right appointment on the right day. We provided a Welcome Area for new applicants which allows them to confirm their basic details before the appointment, or supplement their application form later on with additional references or scans of required paperwork.
Most significant for office efficency was the move away from paper forms - where the file for each company provided a physical token that was literally passed from desk to desk, to an online workflow system that prompts the appropriate member of staff with the next move. The visibility of progress and shared access to applications that this gives staff has proven very valuable to manage time and progress more effectively.
The nice problem to have
Managing growth is a nice problem to have, but it is still a problem requiring a solution. For Checkatrade this meant improving efficiency without reducing standards.  An electronic application process has halved the time spent processing new applications and improved quality by reducing the amount of missing or incorrect information.
Ready to solve your problems?
We'll help meet the challenges facing your growing business. Get in touch and tell us what you need, the team can't wait to hear from you.
Contact us