Redesigning the UK's most trusted way to find tradespeople
Checkatrade.com had been up and running since around 2007, and 7 is a big number of years on the web. A thorough redesign was an opportunity to take advantage of new technologies that would benefit customers, such as interactive maps and improved search.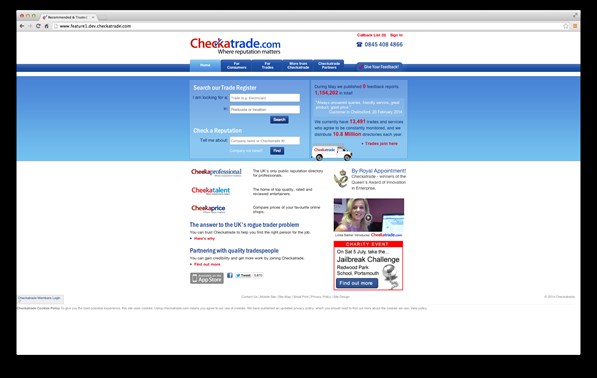 The old Checkatrade.com
This was also a chance to re-think the journeys of Checkatrade's users, with specific business goals in mind:
To reinforce the focus on search, and speedy results
To provide prospective members with all details needed to join
To simplify the feedback process down to 3 steps
To reduce bounce-rates – visitors who leave without clicking through
To make sure we understood users' needs, we consulted with key people including Checkatrade members via panel meetings, the general public via info sessions, and staff through training sessions.
Sorry to interrupt…
If you like what you've read so far, join us on LinkedIn to talk all things digital product development with our team of experts.
Let's talk Fluent
The result is a distraction-free design, reducing the high volumes of information and 'noise' on the old site. And, you can't miss the search feature: it's spotlit and waiting to help you find a tradesperson you can trust.
Before launch, we carried out extensive testing. Specific use cases helped guide the team through the key system features. We made sure everything worked across browser, platform and on a wide range of devices.
The new website launched smoothly in the early hours of Monday, 9th June with only a few minutes required to swap the old site for new. Server and site monitoring tools allowed us to check performance and isolate any areas of concern.
Launch, though, was not the end of the project. Through a series of follow up calls with Checkatrade, we were able to prioritise support and enhancement requests, distinguishing between those related to the new website and normal day to day queries. We tweaked our scheduling to ensure key resources were on hand to help answer specific technical queries.
Ready to solve your problems?
We'll help meet the challenges facing your growing business. Get in touch and tell us what you need, the team can't wait to hear from you.
Contact us