A new global payment processing system for Hope For Justice
When Hope For Justice joined forces with Abolition International and Transitions Global it became one organisation under the global Hope for Justice banner.
This called for a significant and technically challenging redesign of the existing site, which would look and work beautifully regardless of the device it was viewed on.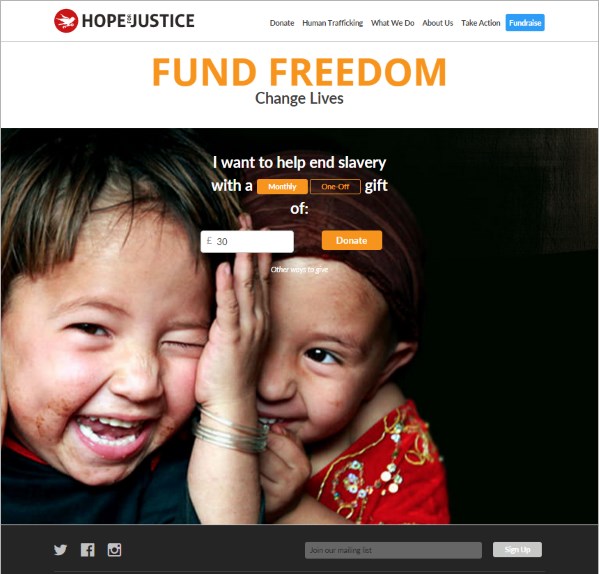 The website is an essential revenue-generating channel for Hope For Justice. They depend on donations from visitors to help them combat human trafficking and bring an end to modern slavery.
So, when they asked us to help integrate a payments processing system, there were three essential parts to their brief:
It needed to handle US and UK donations with speed and efficiency.
It needed to be mobile-friendly. Not just 'possible' to donate on a mobile device, but pleasing and easy too.
It needed to support both one-off and repeat donations.
But, just how do you deliver the same slick user experience for everyone, regardless of location, bank account or currency?
That was the $million dollar question (literally) we needed to crack.
Sorry to interrupt…
If you like what you've read so far, join us on LinkedIn to talk all things digital product development with our team of experts.
Let's talk Fluent
There were a number of off-the-shelf payment solutions out there that we knew could do the job, but none of them could just be plumbed into the site as it was.
After much researching of the marketplace, we selected a system called Stripe and started work on US transactions first.
Stripe has good international support,  a great API that enables us to extract the donation data for use in CRM and Stripe Checkout (the payment form we're using).  They also focus on making the experience work well on all devices.
The next stage will be to start handling donations from the UK (which are made more complicated by the addition of Gift Aid).
And we'll also add repeat donations via Direct Debit functionality too.  We've chosen GoCardless for this because it has much lower fees and doesn't expire when the credit card expires.
The dollars started to roll in from the moment the site went live - and it's now used by over 1500 individuals to show their support Hope For Justice.
Ready to solve your problems?
We'll help meet the challenges facing your growing business. Get in touch and tell us what you need, the team can't wait to hear from you.
Contact us