Find a fitness instructor from the comfort of your armchair
Checkatrainer launched their new website this week.
It's a sister site to the online trade directory we built for Checkatrade. Only this time the focus is on connecting people with health and fitness professionals. Hopefully it's a good fit (sorry).
There are over 20,000 personal trainers in the UK, but it's a highly fragmented, unregulated market dominated by owner-operators.  And because trainers, like tradespeople, often work in their clients' homes, reputation is paramount.
Sorry to interrupt…
If you like what you've read so far, join us on LinkedIn to talk all things digital product development with our team of experts.
Let's talk Fluent
So how do you go about finding a good personal trainer?
Unless you know someone who can recommend their own fitness instructor (and let's face it, how many of us do?) then Checkatrainer is the next best thing.  
The site allows you to search by 'fitness service' and location and then narrow down the results by relevance, reviews or rating.  If you already know the name of a member, you can look them up.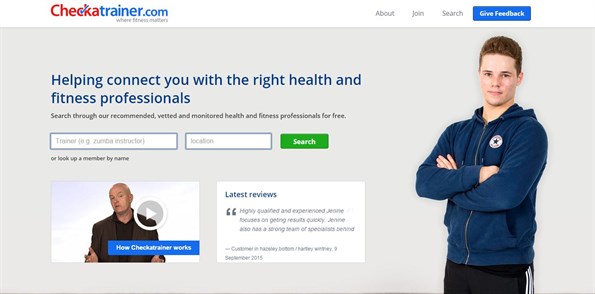 Professional instructors who want to join can register their interest via the site, but that doesn't guarantee a listing.
The Checkatrainer team vet all enquiries, ensuring that qualifications, insurance and accreditations are above board.
And even when a trainer does make it onto the site, members of the public are free to submit feedback. This, too, is monitored so anyone who isn't up to scratch risks losing their coveted membership.
We built it all in Umbraco in 6 weeks. The design is in line with Checkagroup's distinctive branding and works responsively on mobile devices.  
You could say it was a bit of a sprint, but it's the kind of workout we like.
Ready to solve your problems?
We'll help meet the challenges facing your growing business. Get in touch and tell us what you need, the team can't wait to hear from you.
Contact us