Pure's new executive website is the business
Pure Resourcing Solutions (PRS) handle recruitment across a wide range of sectors in East Anglia.
They have a proven track record in professional executive recruitment and wanted a new site to reflect their handpicked approach in this most specialised of sectors.
So we built pureexecutive.com, a designated space for them to better define and market their offering.
There's no better advert than a testimonial from a happy customer, and as Pure have quite a lot of them - we featured their case studies on the homepage. They all tell of Pure's tailored response to very different and challenging briefs. And how this bespoke approach has led to some top-notch appointments.
Sorry to interrupt…
If you like what you've read so far, join us on LinkedIn to talk all things digital product development with our team of experts.
Let's talk Fluent
The site also had to integrate seamlessly with their existing recruitment database (RDB) .  RDB is 'mission control' software for recruiters and stores everything from CVs to job descriptions and candidate contact information - so there could be no margin for error.
Luckily we've got a bit of a track record ourselves when it comes to 'matching' our own skillset with what recruiters are looking for. Check out another example of our recent work here.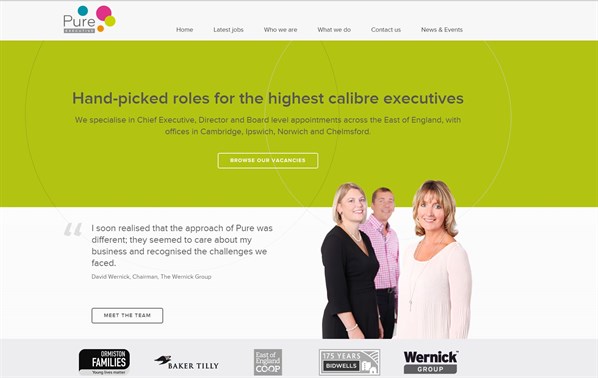 Ready to solve your problems?
We'll help meet the challenges facing your growing business. Get in touch and tell us what you need, the team can't wait to hear from you.
Contact us