Simply the best way to search for property
When it comes to their website, estate agents, Tucker Gardner have always liked to stay one step ahead of the competition.
And now we've just completed a redesign of their homepage to make it even easier for Cambridgeshire house-hunters to find their dream home.
Typically, estate agent websites ask visitors to spend a few minutes selecting against different search criteria (price, number of bedrooms, distance from city centre etc) before they display the results page.
TG recognised this was a lot of hoops for people to jump through right off the bat. Especially as many people arrive on the page from sites like Rightmove, with a specific property already in mind.
Sorry to interrupt…
If you like what you've read so far, join us on LinkedIn to talk all things digital product development with our team of experts.
Let's talk Fluent
So our brief was to get people browsing the properties as quickly as possible, in as few moves as possible.
In a bold break with tradition, we recommended having a single search box on the page. But the main challenge with this approach was to make sure that visitors would still understand how to search.  
We solved this with an ingenious bit of animation. The placeholder text in the search box scrolls through a number of random starting points, including local landmarks, street names, villages or schools.

 If you start to type something along these lines, the autocomplete function kicks in.
The beauty of it is that you can narrow or widen your search as you go.  Say you're looking for "Leys Avenue" the search will return the exact property you're looking for - but only if you type the whole phrase. If you just type 'Leys' - you'll be given a few other avenues (and roads and schools) to explore too.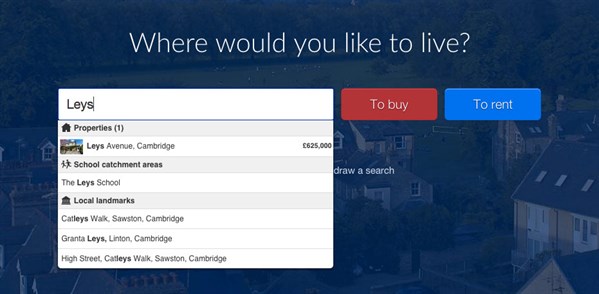 There's still room for a spot of serendipitous discovery, which in a property market as hot as Cambridge's, is no bad thing at all.
Ready to solve your problems?
We'll help meet the challenges facing your growing business. Get in touch and tell us what you need, the team can't wait to hear from you.
Contact us