Supporting ieso's success as they build trust in online therapy
Services: Digital strategy | UX and design | Software engineering
ieso have treated over 115,000 patients through text-based cognitive behavioural therapy (CBT). Their methods are informed by 600,000 delivered hours of therapy which has enabled the responsible analysis of over 1 billion words.
A recent survey ranked them as the UK's top online therapy provider.
To speed up their early-stage growth, ieso approached Fluent for our expertise in UX design. This one collaboration blossomed into an eight-year partnership that's still going strong today.
After four major development phases, we're now a trusted partner in the design of their digital healthcare services. With machine learning as their new frontier, ieso are attracting record levels of funding to break into the US market.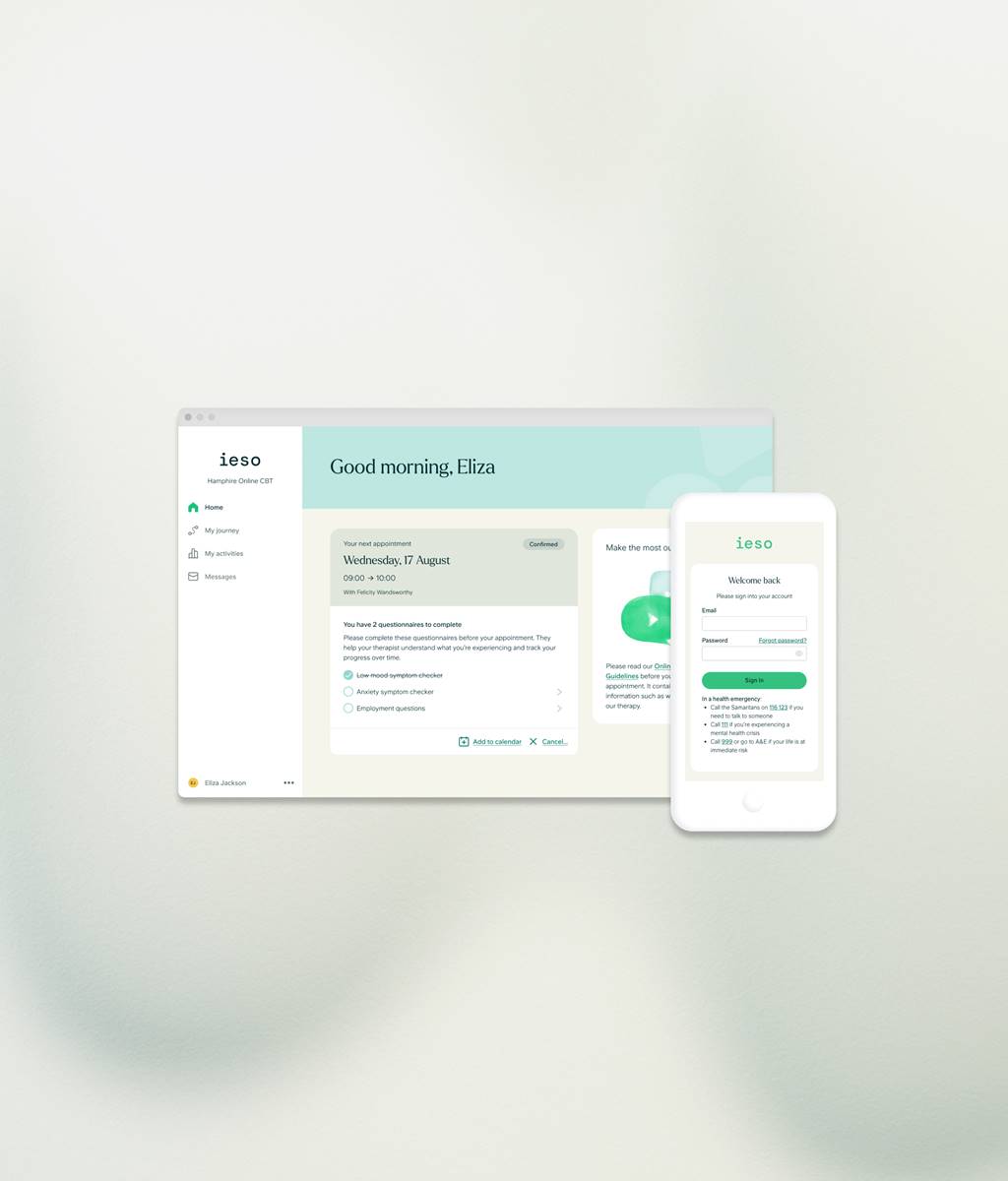 Amplifying healthy growth
Even in their earliest days, ieso were doing a lot of good work. Hundreds of therapists were delivering CBT in real time via desktop and mobile devices, helping service users by:
Cutting waiting lists 30%
Boosting recovery rates
Removing barriers to therapy
Analysing patient progress session by session, the team could refine their clinical practice based on real data. The product was viable and they knew it. But to attract serious investment, they needed to spruce up their marketing presence. They also needed to build on the experience they offered to both therapists and service users.
The ieso team knew Fluent's reputation for successful digital product transformation. After all, we're based right down the road from each other. Early conversations quickly demonstrated we could meet their early-stage needs… and much more.
The results are compelling:
Ieso report an increase in the amount of patients who recover by as much as 50%.
Building a solid foundation
Our initial work with ieso involved building a marketing website and a support portal for therapists. We then got cracking on a full reskin of their clinical platform, a UX design job intended to attract investors.
The success of that design project secured £18 million in investment to finance growth. This was a European record for the mental health space at the time. But it also proved how well our two teams worked together.
More projects followed soon after. We envisioned being able to spike a team when big technical challenges reared their heads, then scale back in line with project demand. That would give ieso breathing room to find and recruit the best permanent staff instead of being forced to hire in haste.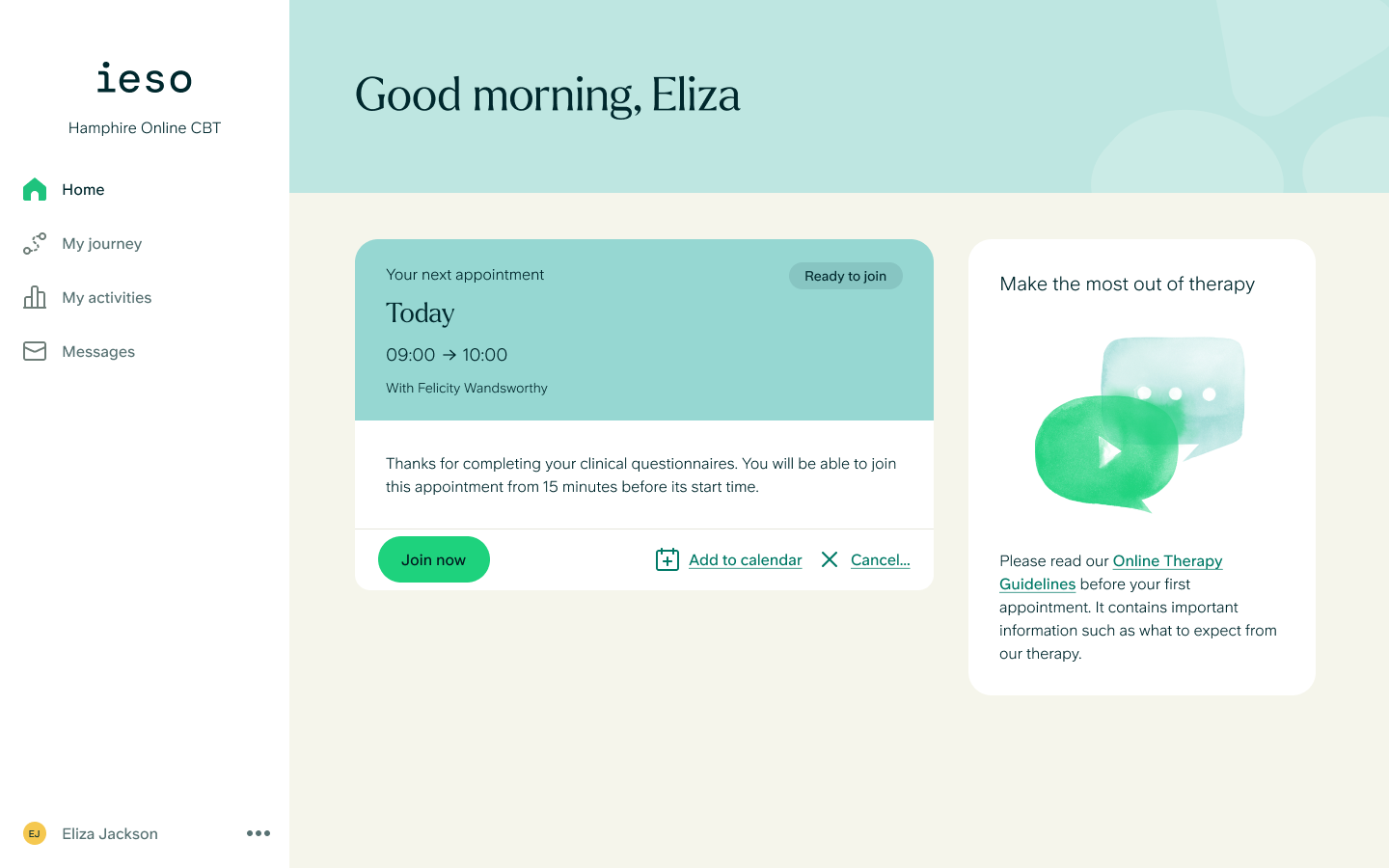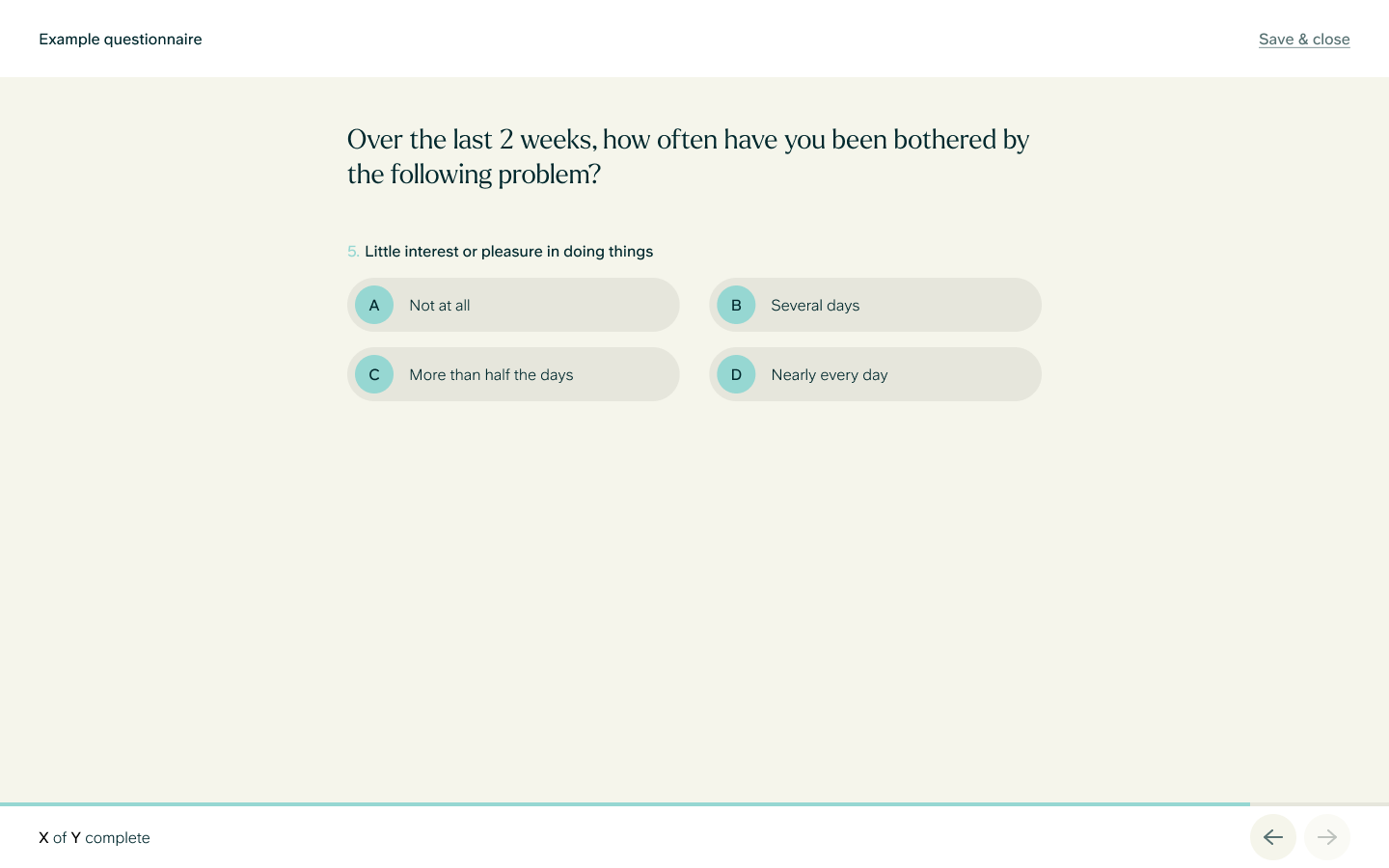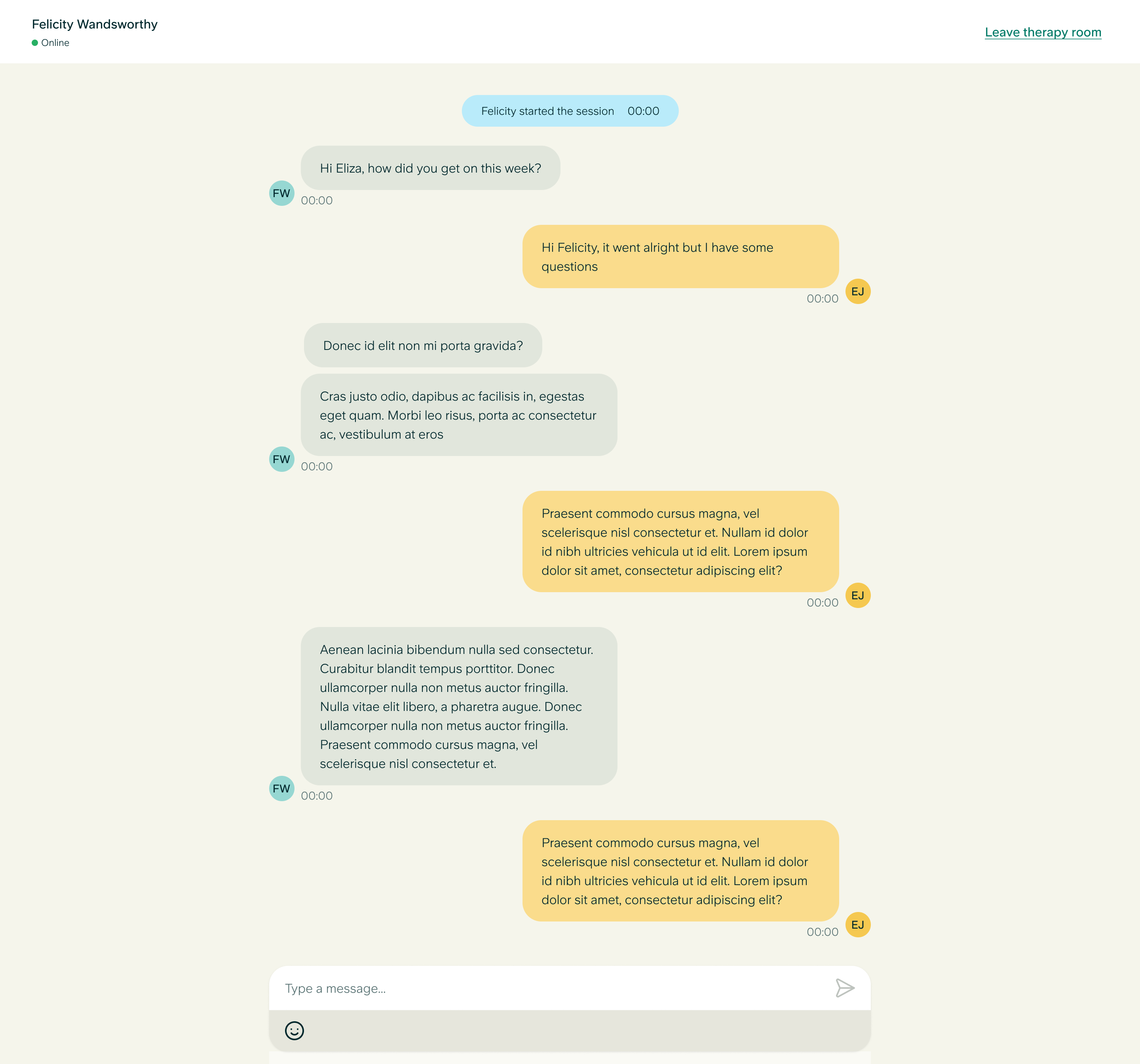 An ever-closer partnership
The following years saw Fluent personnel augmenting ieso's team, often in leadership and consultancy roles. Across strategy, design and engineering, we helped re-architect the platform for better modularity and scalability.
This involved taking a product that was developed as a single-model application and turning it into something that can be maintained as separate elements. That would let future developers mix and match, making growth faster and easier.
As well as reworking what already existed, we were also able to add new features to help users get more from the service. A rebuilt chatroom and streamlined single-sign in functionality enhanced a service which was already helping huge numbers of people.
Our work paid off. ieso won the 2017 Digital Experience Award for outstanding digital innovation and was named as one of the UK's top 10 disruptors by the Sunday Times. This was good, because the whole healthcare sector was about to face its biggest challenge in living memory.
Defining the future of digital therapy
During the pandemic, mental health services underwent a seismic change in delivery, as well as a huge surge in demand. Moving from in-person to digital therapy in a matter of weeks pushed healthcare to the forefront of digital transformation. In 2021, ieso secured £50 million in funding.
We were called upon to help design and build a new React-based patient experience with a new microservice architecture. This tool would add extra features like:
A new API to let patients register faster
Improved UX based on years of learnings
New ieso branding with a fresh look and feel
Outcome: Award-winning achievement, record investment
The new platform UX makes life easier for everyone, from service users to therapists. ieso's ambition is now to grow internationally by £150 million over the next five years.
Our team are more than happy to help. Right now, we're supporting the creation of next-generation AI-based products to bring more effective treatments to an ever-wider audience.
We're proud to be shaping the future alongside ieso, who are now a key strategic player in digital healthcare. Could your organisation achieve more by taking a fresh look at UX? Our expert designers and developers want to hear your ideas for boosting revenue and helping more people.
Fluent has been the best development partner and UX agency I've ever worked with. The talent and execution skills they bring to the table have been instrumental in our success. They became a close part of the team; we've never considered them to be an outside partner. Fluent's skills in developing technical strategy, executing development, and creating compelling UX is an asset that would benefit any company looking to push the envelope in digital innovation.
Could your organisation achieve more by taking a fresh look at UX?
Our expert designers and developers want to hear your ideas for boosting revenue and helping more people.
Contact us