Modernising legacy systems for professional body RICS has generated year-round sales
Annual sales spikes are a thing of the past for this historical organisation.
It's much harder for an established institution to improve its systems. While startups have the freedom to trial the latest technologies, established businesses have a responsibility towards their customers, members and stakeholders. And they almost always come with a complex web of legacy systems, managed by a complex web of teams, all with different priorities.
It's just the kind of difficult technological challenge we thrive on.
A 100 year old legacy
The Royal Institution of Chartered Surveyors (RICS) received its royal charter in 1881 and since the Victorian era has published a comprehensive international listing of Chartered Surveyors. The directory guides people to the right surveyor, whether for a home valuation or business to business services.
The print version of the directory was only retired 10 years ago, leaving the legacy of an annual publishing deadline - and a corresponding annual sales cycle which caused an unsustainable peak in staffing and lumpy revenue generation.
Fluent worked with product and IT teams at RICS to re-architect their Find a Surveyor application, collaborating together as an extension of their virtual team. We started with a discovery phase to establish a technical strategy for the web application. Once a direction was agreed we designed and built a new application for the back office, a self service portal for the members, with an online payment processing service and an upgraded CMS for the public site. All this was integrated alongside their existing CRM, database schema and website look and feel.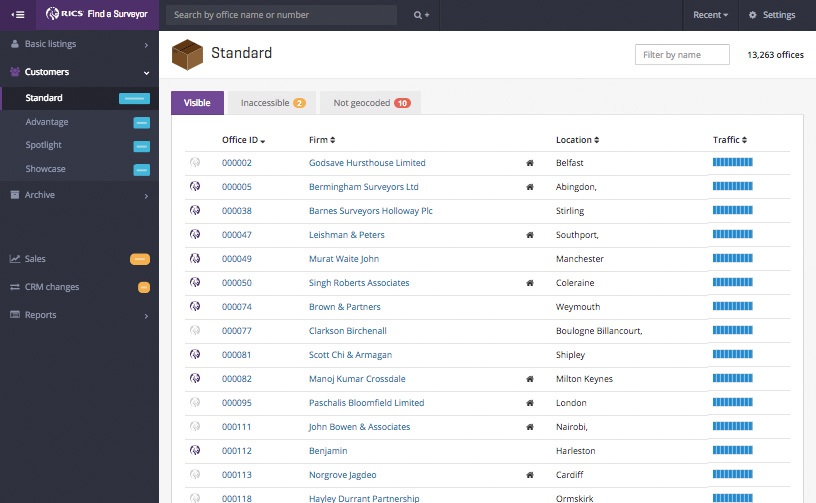 Investment creates a positive feedback loop
Allowing members to create and maintain their own listing, whilst working to improve search functionality and public usability has established a positive feedback loop. More listings gives better search results, attracting more web visitors, which makes the value-proposition an easier sell.
The system is much more efficient for members, staff and consumers, and we are proud to have become a trusted partner of a venerable organisation - with further developments currently in the pipeline!
Let's work together
We'd love to hear from you. Make our day.
All ideas welcome. We'll soon let you know if we're able to help.
Contact us