Empowering the renewable energy sector with a wind farm design web app capable of managing complex data streams
Services: Digital strategy | UX and design
Wind Pioneers is a specialist technical consultancy that helps wind farm engineers, developers and investors design and optimise wind farm layouts. 
Traditionally the wind farm design process takes several years to complete, requiring huge data models and several iterations each taking months of on site and off site work to refine.
Wind Pioneers contacted Fluent for support in delivering a second iteration of its prototype WindQuest software, with the aim of refining the user experience so it could be used by clients and not just as an internal tool.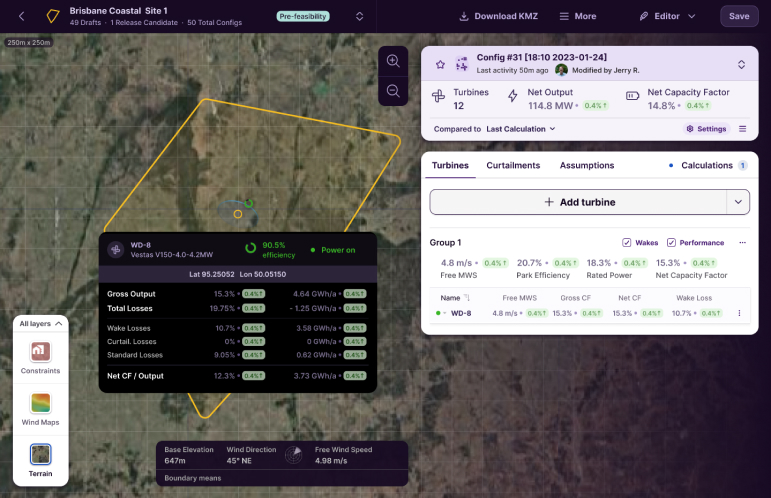 The brief: Refining complex software
We'd worked with Wind Pioneers back in 2020 on an Minimum Viable Product (MVP) capable of simulating turbine placement and estimating energy production. By 2023, the prototype graphical interface we created in Material UI had undergone years of testing and use.
Everyone in the company, from directors to interns, had been invited to use the software and build a wind farm. Of course, it also saw regular use as part of their core consultancy work.
That meant lots of user feedback and a list of feature requests to shape the tool's next steps, including:
The existing UI had been designed for an average site of about 40 turbines. It was now being used for sites of over 200. An updated interface had to reflect that massive increase in scale
Calculating turbine placement involves thousands of variables, from wind speed to height to the space between each turbine. We were asked to create a UI that supported the process of managing resource intensive iterative changes
A graphical map-based view would let wind farm owners visualise their assets in relation to one another, it was our job to decide exactly what that would look like
Fluent's familiarity with the platform and our extensive sustainability credentials made us the right team to tackle this new phase.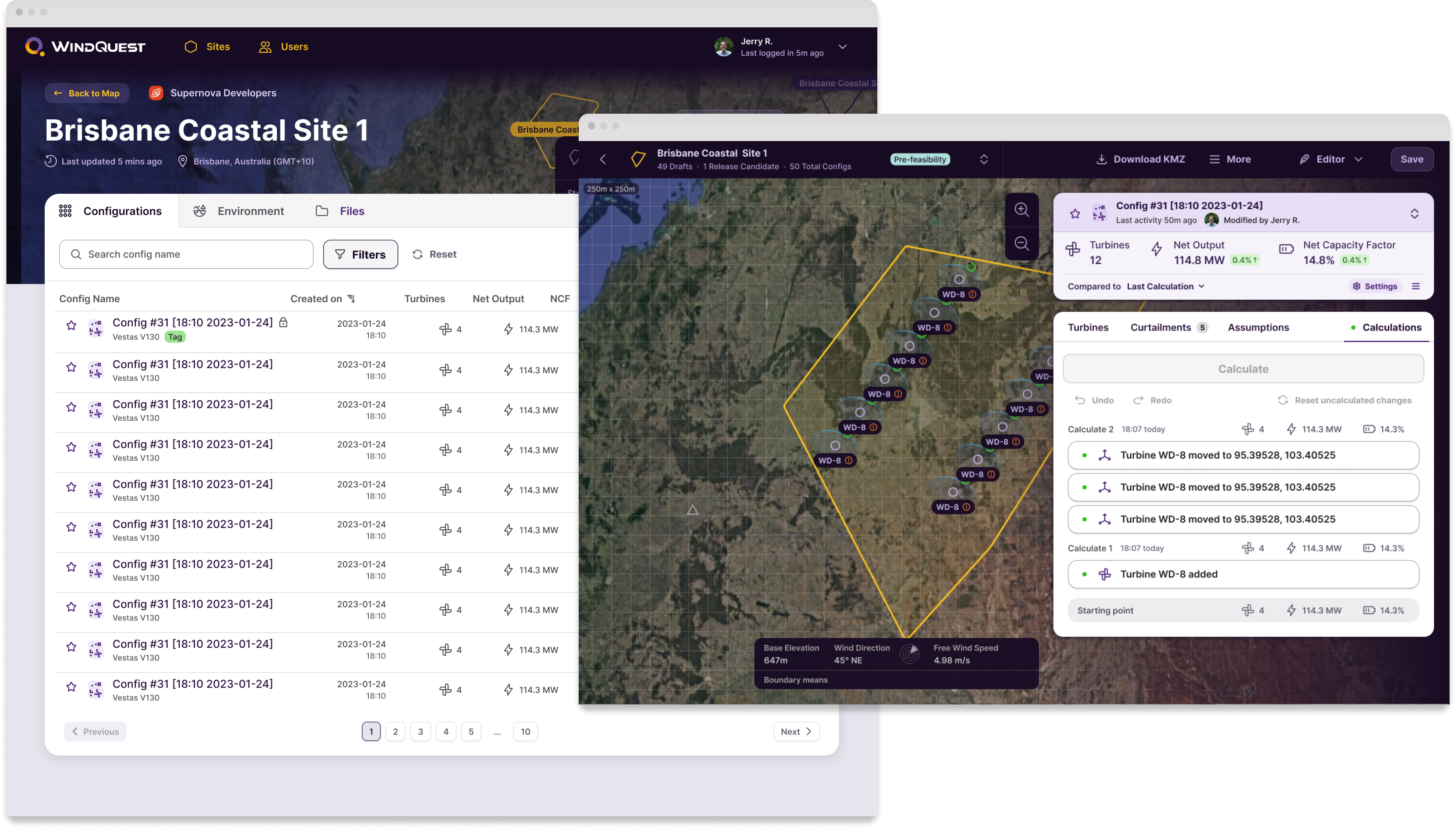 The process: Delivering through collaboration
The five-week process began with a series of deep-dive workshops between our product designers and Wind Pioneers' consultancy leadership. These workshops, lasting up to four hours each, let us familiarise ourselves with the project's requirements and the industry overall.
Success meant aligning the new prototype with the reality of how it would be used in the field. Weekly progress presentations to the client kept us on track, while daily internal stand-ups helped maintain momentum.
This process produced some solid ideas, which then made it into the finished article. For example, a staging or 'estimate mode' was added. Users could get a ballpark figure for the effects of any proposed changes prior to full calculations being run.
Mind you, the previous version of the platform was already saving considerable time. Calculating wind farm stats manually takes days of work. The platform was doing it in 20 minutes, but now users didn't even need to wait that long.
These calculations were further sped up by users now being able to load previous configurations. Rather than starting from scratch, they could iterate from previous designs and more easily experiment with potential improvements.
Outcome: Greater confidence towards faster positive change
Wind Pioneers now have a strong internal tool and in future, a marketable product. Larger number of turbines can be predictively modelled via a new layout, with multiple different ways of visualising output. 
These are challenging, non-linear interfaces. The amount of data being used, its geographical nature, and the complexity of the renewables industry presented a complex UI challenge. Being able to intuitively reflect such a complicated experience in only five weeks shows what can be achieved with a strong client relationship.
In terms of deep, rapid learning on a highly technical topic, wind farms are pretty tricky. But we're experts at creating clarity out of intricate, tangled systems. Could we do the same for your next digital development project?
Fluent absorbed our problem and provided a solution that sent us in the perfect direction.
Talk to us about building for the future
Ready to create a better way of working, for people and our planet? Talk to Fluent, sustainability is in our code.
Contact us