UX-focused interface helps Wind Pioneers guide green investment
Wind power is a cornerstone of the global push towards renewable energy, and it's not blowing over any time soon. 2020 saw 71.3GW added to the world's capacity to generate electricity from wind. A further 348GW is expected by the end of 2024.
India and the UK are among the leading nations in terms of wind power capacity. 2019 saw rises to 37,506MW and 23,515MW respectively. Offshore, it's relatively straightforward to place turbines in optimal locations.
But onshore, where geography and buildings get in the way, how can you be sure you're placing those turbines in the most efficient locations?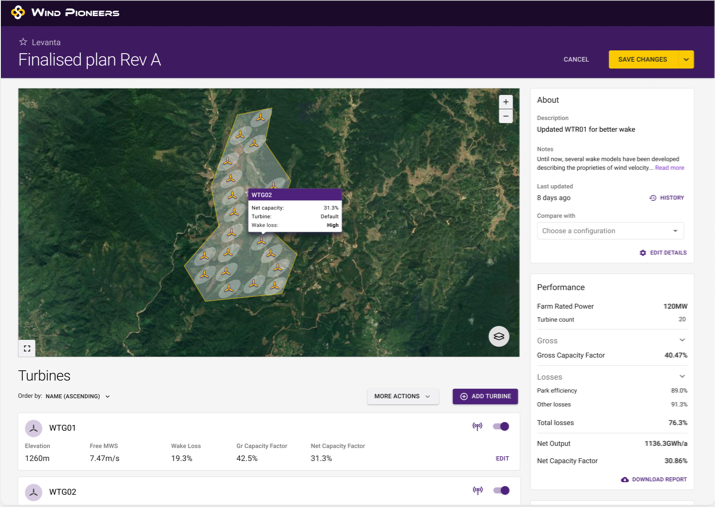 Wind Pioneers are a specialist technical consultancy based in Bangalore, India and Cambridge, UK. Working with developers and investors all over the world, a big part of what they do involves selecting the best sites for on-shore wind farms to yield maximum capacity.
Objective: Visualising complex, evolving data
When Wind Pioneers contacted Fluent, they were doing some enormously complex maths to advise their clients. These involve the prospective sites themselves, the elevation and direction as you might expect. They also factor in the size and placement of the turbines.
Place turbines too far apart and you waste precious real estate. But place them too close together and you get what's called wake loss, where turbines interfere with the air flowing to their neighbours.
Speaking of neighbours, the team also had to factor in the impact of development on local communities, each of which could present unique challenges. Variables like only being able to operate at certain times of certain days rapidly escalate the complexity of these calculations.
With investment in each wind farm routinely exceeding $100 million, it's beyond critical that turbines are placed efficiently. As global wind power champions, Wind Pioneers lead the way in developing collaborative design tools to get that placement exactly right.
Fluent were brought on board to develop a prototype graphical interface in Material UI which would let Wind Pioneers and their clients visualise potential turbine locations more easily.
Phase one: Designing an intuitive UI
Our UX team enjoyed enormous creative freedom to tackle the early stages of this particular challenge. It was clear from the outset that both parties spoke the same language. A Material UI built in React was agreed straight away, with everyone aware of what that entails.
Not only that, Wind Pioneers are a small, focused team. That meant conversations happened fast, we could iterate ideas and get expert feedback without navigating layers of signoff. Definitely one of the pros of working with more nimble organisations.
It was time to get started. First, we developed a wireframe interface which could take all that data from Wind Pioneers' other products. We acted as a fresh set of eyes, offering a new perspective on how this data could be presented in a clear way.
Only a few amends were needed before we proceeded to the design stage proper. The trick lay in bridging our expert UX know-how with the client's technical knowledge. We can never achieve the client's level of expertise over the course of a project, but we can use what we know to accentuate that expertise.
Phase two: Developing a flexible MVP
Taking the Material UI design library in Figma, we turned the initial concept into a working design prototype.
The devil was in the details here. Early-stage feedback had emphasised the importance of being able to curtail certain sources of data as easily as possible. If it became necessary to remove a certain number of turbines from the equation, for example, that had to happen without recalculating everything from scratch.
Not just wind turbine numbers but location, wind direction, and all sorts of external factors needed to be enabled and disabled in a few clicks. A huge number of possible user journeys had to be possible from the same interface, and that interface had to scale with time.
Because Wind Pioneers are a young company, they needed us to focus on making this interface as futureproof as possible. More features would be added later as their offering and sources of data expand.
That meant taking care to anticipate what categories of features might be needed later and leaving space under those headings for later versions.
We were helped by the fact that their team are at the very top of their game, and already have a fair idea of how their products and services are going to develop. Soon, for example, you'll be able to slightly tweak dozens or potentially hundreds of turbine positions in one batch.
Outcome: An interface with lasting value
The crew at Wind Pioneers were delighted with their new interface. They always knew their product was more than merely viable, it's legitimately important to the future. Now, they can demonstrate that product vision in a way that makes sense to everyone.
On our end, it was great for our UX team to integrate so closely with subject matter experts clientside. We relished the challenge, and managed to complete the entire project in just five days.
Is your business facing its own UX challenges? The Fluent approach can help you find the clarity you need.
Let's work together
We'd love to hear from you. Make our day.
All ideas welcome. We'll soon let you know if we're able to help.
Contact us