Applying low-code Leverage for social change: Enhancing a food bank app
As part of our support for national volunteers week, we spent a second day volunteering at a local community project, this time at C3 Impact's food bank. If you haven't already, we recommend taking a look at our previous volunteering blog post from our time building a pathway at a care farm charity, the Prospects Trust. 
On our second volunteering day, we put the outdoor tools away and used Fluent's multifaceted team to work on enhancing a mobile application for C3 Impact. The charity is pioneering the way food bank operations are managed with a mobile app designed and developed in a low-code environment by our perfect mix of clever software engineers, UX designers and project managers.
Fluent volunteers for C3 Impact 
The aim behind C3 Impact is to run various projects and programs that will make a positive impact on the lives of individuals in need. This ranges from food banks to well-being hubs and important life skill courses. To learn more about their work, visit their website.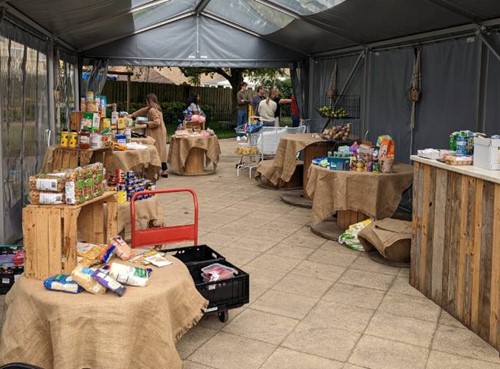 As part of the C3 Impact initiative, an application was developed and named, Leverage. This tool is designed to increase the efficiency and effectiveness of their Impact activities such as recording food donations from local supermarkets and recording the distribution of food packages to the community.
Working in a low-code environment using ReTool 
Our very own expert Alan built Leverge 1.0 a year ago in ReTool. It's great to see a charity like C3 Impact leading the way in embracing an innovative approach to digital product development. We discussed the rising trend of Low-Code/No-Code (LCNC) tools in our blog post; Predicted digital product development trends in 2023.
Building and testing digital solutions in a low-code environment for a charity seems like a match made in heaven. It can save a massive amount of time, money and resources. Overall this means that more money can be kept making a direct impact on the ground for charities.
It also doesn't require charity workers to be traditional 'programmers'; the skills can be much more easily taught, opening up opportunities for people without technical know-how to get involved in the process. 
Sorry to interrupt…
If you like what you've read so far, join us on LinkedIn to talk all things digital product development with our team of experts.
Let's talk Fluent
On the day the team found that they were able to move very quickly from an initial concept to testing something, without having to launch a fully-fledged Leverage version 2.0. 
How Fluent approached the task at hand
At Fluent, we typically start a project with a discovery phase. This involves delving deep into the workings of a business or charity, ensuring we ask the right questions in order to create solutions that fix real problems.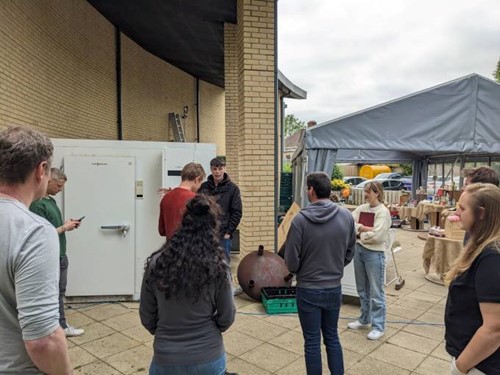 After an evaluation, the team came up with the following opportunities to improve the app: 
Record food donations
Record users of the community market and identify opportunities to share other support programs
Create events and record attendance
Manage internal volunteers 
After a turbocharged hour of discovery, the team rolled their sleeves up and got to work. For this blog post, we will focus on the food donation tracking which was identified as an underutilised tool on the day and is often a common problem for charities, yet so important to get right.  
Addressing fundraising and donation problems requires digital savviness  
Understanding how to improve and optimise processes for fundraising and donating is nothing new for Fluent. We've worked with charities such as Hope for Justice and CAMFED where we were able to create a digital strategy that helped to maximise the effectiveness of each pound/euro/dollar etc made. How? It's made up of a combination of; strategic direction, elegant user experiences and clever back-end systems.
With Fluent's expertise in the charity sector, we knew we could help C3 Impact and help to better track the donations of food. 
With the problem clearly defined and user journeys duly noted, we used Retool to build a prototype app that allows staff at C3 Impact to record the volumes of food donations received by weight and category. As an additional feature, we built tracking functions that allow the recording and monitoring of outflows of stock to various destinations such as the community market, the community fridge and food vans, all across 3 geographical locations.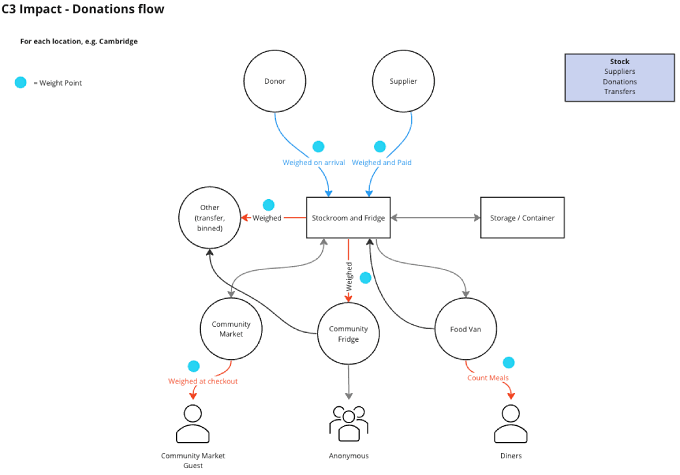 Providing a meaningful work experience:
During this week we had a smart work experience student Ben join the Fluent team. Here is what he had to say about the day: 
"I am so grateful that I had the opportunity to do work experience with Fluent during their Hackathon for the C3 impact project! It was brilliant learning about the work of the charity and then collaborating with the very enthusiastic team at Fluent to develop an application to support C3 Impact. I got a great insight into the process of taking client needs and transforming them into a useful product, and even better - it was for such a good cause."
- Ben, Fluent's work experience student 
What is next for the Leverage app?
Our commitment to giving back extends beyond a single volunteering day. We understand that we can always do more to make a positive difference in our community. Working with C3 Impact and contributing our skills to enhance the Leverage app has been a rewarding experience, and we look forward to continuing our partnership with organisations that are dedicated to making a lasting impact.
Do you have a digital product idea you'd like to test in a low-code environment?
We're really excited about helping charities to work with low-code platforms to develop ideas, and we'd love to help you get started.
Get in touch by emailing us at [email protected] and the Fluent team will be more than happy to give you some of our time. We're never going to be done giving back. 
Ready to solve your problems?
We'll help meet the challenges facing your growing business. Get in touch and tell us what you need, the team can't wait to hear from you.
Contact us