Low-friction donation journeys for Africa nonprofit, CAMFED
We helped a nonprofit break free from third-party restrictions to win more donations, with a platform that puts them in control.
The Campaign for Female Education, CAMFED, works to revolutionise access to schools and workplaces for girls and young women in Africa. Their impact is huge, with 4.1 million children helped into education and 7 million benefitting from better educational environments.
This produces a massive knock-on effect. Young women progressing from school to leadership roles create a network of doctors, lawyers, teachers, and entrepreneurs. Together, they're tackling big social issues from poverty and forced marriage to climate change.
But of course, this doesn't all happen for free.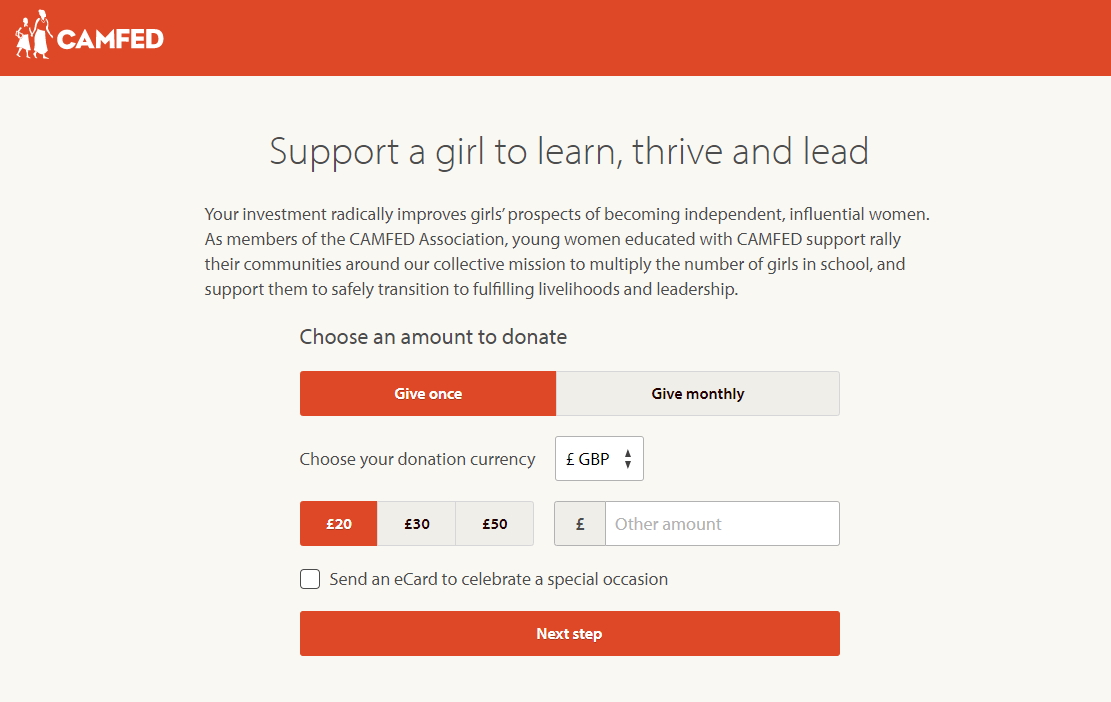 Objective: An integrated, scalable donations platform
CAMFED relies on thousands of donors to continue their work. When they came to us, they were feeling the restrictions imposed by their existing donation management platform.
They'd long since outgrown third-party platforms like JustGiving in favour of their own system. But it was rigidly integrated with their website. Changing (or more importantly, scaling) one meant making substantial changes to the other.
If they wanted to create custom donation campaigns, they were limited by an inflexible CMS. This was no longer something they could work around. They needed more freedom to craft a compelling case for donations.
And throughout it all, they were still subject to third-party service fees cutting into their donations. This came to a pretty sum when you consider the scope and scale at which CAMFED operate. That money should be going to help more people.
Our early-stage discussions gave us a clear picture of success; give CAMFED full ownership of their donation process, provide flexibility, letting them create low-friction, high-converting journeys, build in sustainability and scalability to future-proof the platform, bring it all in house to cut third-party fees and add the option to give by Direct Debit for even lower fees and greater longevity.
Technical architecture lays the groundwork for success
It's very common for us to be given a technology stack to work to as part of our brief. This challenge came with plenty such nuances for us to sink our teeth into. Microsoft Azure is provided to charities like CAMFED free, so we were always going to use that for hosting. As mentioned, Salesforce was there as an endpoint. Stripe and SmartDebit were chosen to handle card payments and the new direct debit option respectively.
React and Typescript provide a flexible technology stack
With those ground rules laid, we got cracking on a solution. A front end built in React gave us a JavaScript framework for making something highly, well, reactive.
Meanwhile, the back end consisted of a whole bunch of Azure functions in Typescript synchronising transactions. The new platform handles payments and notifies Salesforce. The in-house team then reconciles transaction data into Salesforce to process receipts.
An integrated platform gives futureproof confidence
Charities moving from some legacy systems to new ones face the headache of massive migration projects, or even a loss of donations in cases where payment methods simply can't be transferred. CAMFED have dodged this with an integrated, multi-part system where old elements can be unhooked and replaced as required.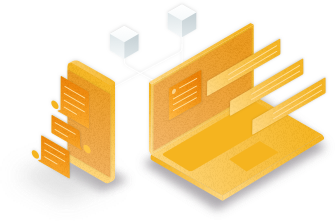 Meticulous UX crafts an engaging experience
But even the tightest mix of optimal technology will fail unless people love using the finished article. The donation journey needs to be obsessed over, like in eCommerce, to cut the cognitive load and optimise the checkout process.
With this project, we also had other considerations to take on board. Remember how the old site, CMS, and donation system each propped one another up? Our new system had to improve the donor journey and match the look and feel of the existing site. When it was time for the website to change, our platform had to keep pace.
That means getting creative with UX, searching for any incremental gains and quality of life improvements we could add for users to enjoy. Things like auto-detecting the user's country whittled down friction, bit by bit.
This localisation presented the nifty challenge of connecting multiple Stripe accounts to native providers, detecting the user's default currency without them lifting a finger. Coupled with flourishes like automated address lookup, we can now get to know the user as fast as possible.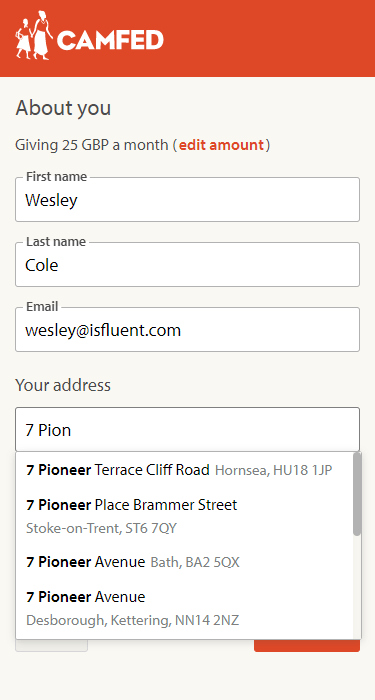 Custom journeys unlock unprecedented targeting
Getting to know the user is as much about why they're giving as it is about who they are. People donating on behalf of others opened up the issue of Gift Aid, which can only be claimed on personal donations.
Being able to geolocate users also opens up region-specific functionality, so we can immediately spot who was eligible for Gift Aid. To cover things like ecards, fundraisers, and legacy donations, we create tailored user journeys to get them over the line as fast and efficiently as possible.
In the end, this actually involved moving the option to give on behalf of others from the start of the journey to much later on, when it became most relevant.
Now, CAMFED's donation team can gather far more relevant data on who a donor is and why they're using the platform. They can follow up with group event organisers to develop deeper relationships.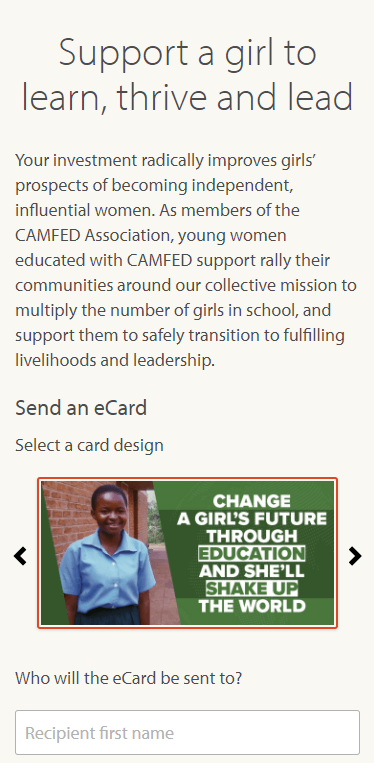 Creating compelling messages has never been easier
And, of course, they can spot which donors would prefer to be left alone. The interface can tell if you're already subscribed to the mailing list. Different copy is presented at the end of the journey, optimised around either winning new signups or retaining existing ones.
Copy is a cornerstone of this project. Every touchpoint needs to be creating a connection with the donor, coupled with powerful calls to action that win the donation.
Rather than have a dedicated CMS for the platform, content is updated via one simple text file and automatically pulled through to the platform. CAMFED's team can easily adjust and test the text they use to attract donations.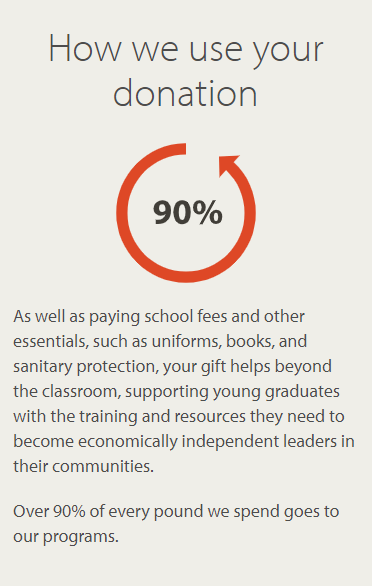 Outcome: Full ownership of optimised donor journeys
The way CAMFED handles donations has been revolutionised:
Third-party fees have been dramatically cut, they're keeping more of their money
They enjoy greater control over their campaigns, friction is lowered and conversions increased
Ownership of their own donor platform lets it scale alongside their operations in future
With no end in sight to the challenges facing girls and young women across Africa, these sources of funding have never been more vital. Thanks to this new, optimised donation process, more people are now looking forward to their lives, careers, and a brighter future.
Have you got a bright idea of your own? Could a creative spark and a Fluent approach make that idea a reality? We want to hear from you.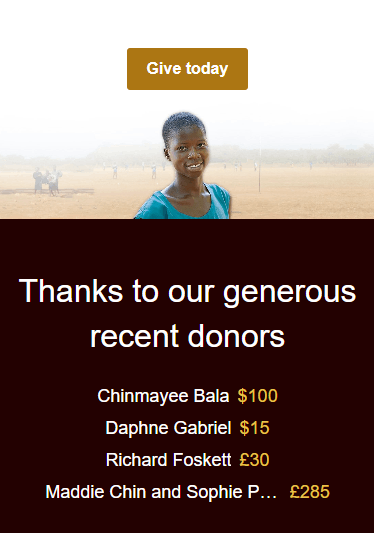 Let's work together
We'd love to hear from you. Make our day.
All ideas welcome. We'll soon let you know if we're able to help.
Contact us